How to distribute funds to your investment club members.
This page provides information on how to make distributions to your club's members.
Congrats! You have now distributed funds to your club's members! If you need more information, see the detailed step-by-step guide below.
In the upper right corner of your club dashboard, click on the "Make a distribution" button.​​
The 'Make a distribution' option only appears after the deposit window of the club has closed.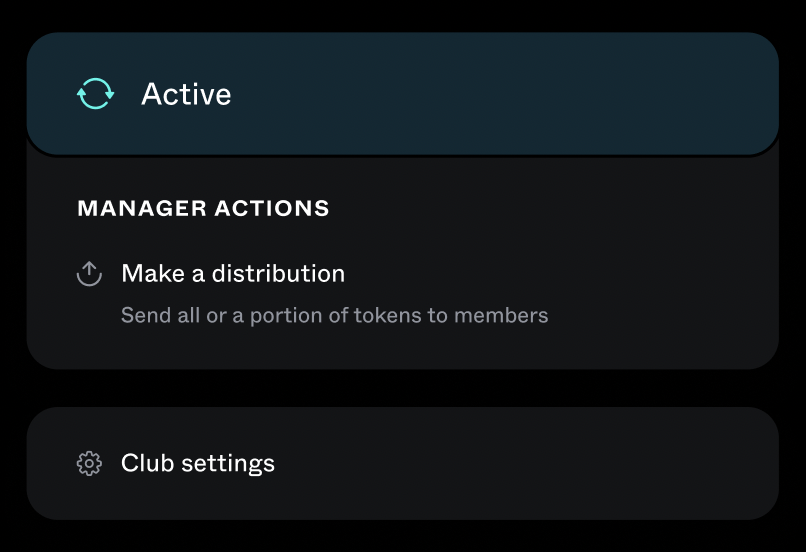 Based on the liquid assets held by your club, select one or multiple tokens to distribute to your members.
Note:
NFTs cannot be distributed to members through Syndicate today. If the club exchanges the NFTs for fungible ERC-20 tokens, they will be available for distribution here.​​
Input the amount of each asset to be distributed using either the selected asset quantity or equivalent USD value. If you'd like to distribute the entire amount of an asset, click the "Max" button - this is the maximum amount allowable while taking estimated gas costs into consideration. When you're ready to proceed, click the "Next, review members" button on the right side of the dashboard.​​
Assets are automatically distributed in proportion to each member's ownership share in the club
at the time of distribution
.
Members who joined the club after an investment was made will automatically be included on the distribution list unless you manually remove those members from the distribution list for a particular asset.
Granting distributions to members who did not purchase the asset may have adverse consequences (including legal and tax implications) and we strongly encourage you to check with your legal and tax advisors before making such a distribution.
If you'd like to remove members from a certain distribution, click "Edit distribution." This will allow you to exclude members from distributions for investments they did not participate in. Funds will be distributed proportionally to remaining members by their ownership share. When you're ready to proceed, click the "Submit" button in the upper right corner of the dashboard.
Note:
If you'd like to adjust a member's distribution share, you can use modify your cap table using the instructions
here
. Once you've adjusted the cap table to your desired state, please revisit this distribution process.
These tools are intended to help investment clubs manage their membership, help maintain compliance, and account for uncommon situations. Uses of these tools for other intended purposes should be consulted with your legal and tax advisors.​​
Please read the popup message and confirm the information within it. When you're ready to proceed, click the "I confirm" button.​
Time to celebrate! Share your crypto gains with your friends on Discord, Telegram, and Twitter.​